Executive Desk Set w pen (above), or the Office Desk Set (below), make a novel and practical executive gift item for the overburdened executive. For centuries, man has held the pendulum over charts and directed questions to his/her subconscious mind to solve problems. Today, more than ever the modern executive can use all the help he can get. For big problems, we've outfitted both the handsome Executive Desk Set and the Office Desk Set with a BIG 2 1/2" diameter pendulum. For small problems, there is a small 1" diameter pendulum. And just in case he/she'd like to make notes, the Executive Desk Set is available with either a beautiful silver pen by cross or a black with gold ring Arcadia pen by Cross.
Both the Executive Desk Set and the Office Desk Set make the perfect desk accessories and create an initial curiosity which turns to enduring intrigue. A conversation piece for home or office. Both desk accessories have a fine wood base.
Both the Executive Desk Set and the Office Desk Set are handsomely scripted as shown on either gold or silver inscription plate finish.
Click here for Catalogue Sheet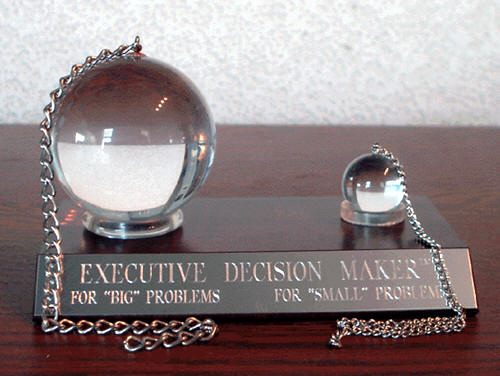 Office Desk Set is approximately 4"X7" without pen--desk accessories every desk should have. Shown with silver inscription plate finish.
Office Desk Set without pen and holder
$64,95
$44.95
©copyright 2002, 2003 by RK industries, 1525B Corlies Ave. Neptune, NJ 07753

Executive Decision MakerTM is a treade mark owned by R.K.Industies
No minimum dollar purchase required to use paypal. (U.S. 0nly)
Don't have pay pal? Here are other payment options:
1. Mail in order form for checks/money orders (any dollar amount or credit cards ($50 minimum)--see options #3 and #4 for no other dollar minimums. Continental U.S. only. International orders, email your order to receive shipping/mailing/handling charges before issuing payment.
2. By phone for Visa/master/AMEX/discover for orders of $50 or more by phone, Call
1-800-993-0929 in continental US. or 732-933-7620 in continental US. There is a 10% fee charged for phone orders.
Desk HQ
Everything Desk, from Adjustable Desks to Z Line Desks.